At Cavan Roofing & Engineering, We keep an excellent stock of various colors and specifications of metal sheeting material. We have the ability to process high volumes of metal sheeting in a timely manner. We are competitively priced and guarantee a quality product.
The drip stop anti-condensation felt can be applied to our corrugated, box and tile effect profile providing an economic solution to your project.
We have clear-lights to match our corrugated and box profile. These are 1.3 mm polycarbonate and meet the department of agriculture's specification. These allow natural light into the building and can be installed in the roof, sides and gables.
We manufacture the necessary flashing's to finish your building. We have both standard flashings and custom order available to suit your requirements.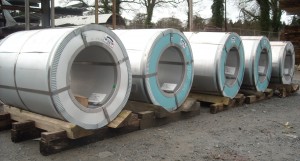 Sample of Metal Sheeting Colours available